Giving a graduation lei when a student comes to the end of their university or high school career has always been a tradition in schools on the islands of Hawaii. However, recently, this tradition has been embraced and welcomed in schools and colleges across all parts of America in every state. When you give someone a lei, it is a gift, a present that shows your love and affection to that person. Leis are also presented when someone is either moving on or arriving. So, if you stay at a Hawaiian hotel, you might be greeted with a lei at the front desk. For graduates, it shows that they are leaving university life and taking their first step towards a new chapter. Graduation leis are becoming as much a marker of moving ahead as the cap and gown.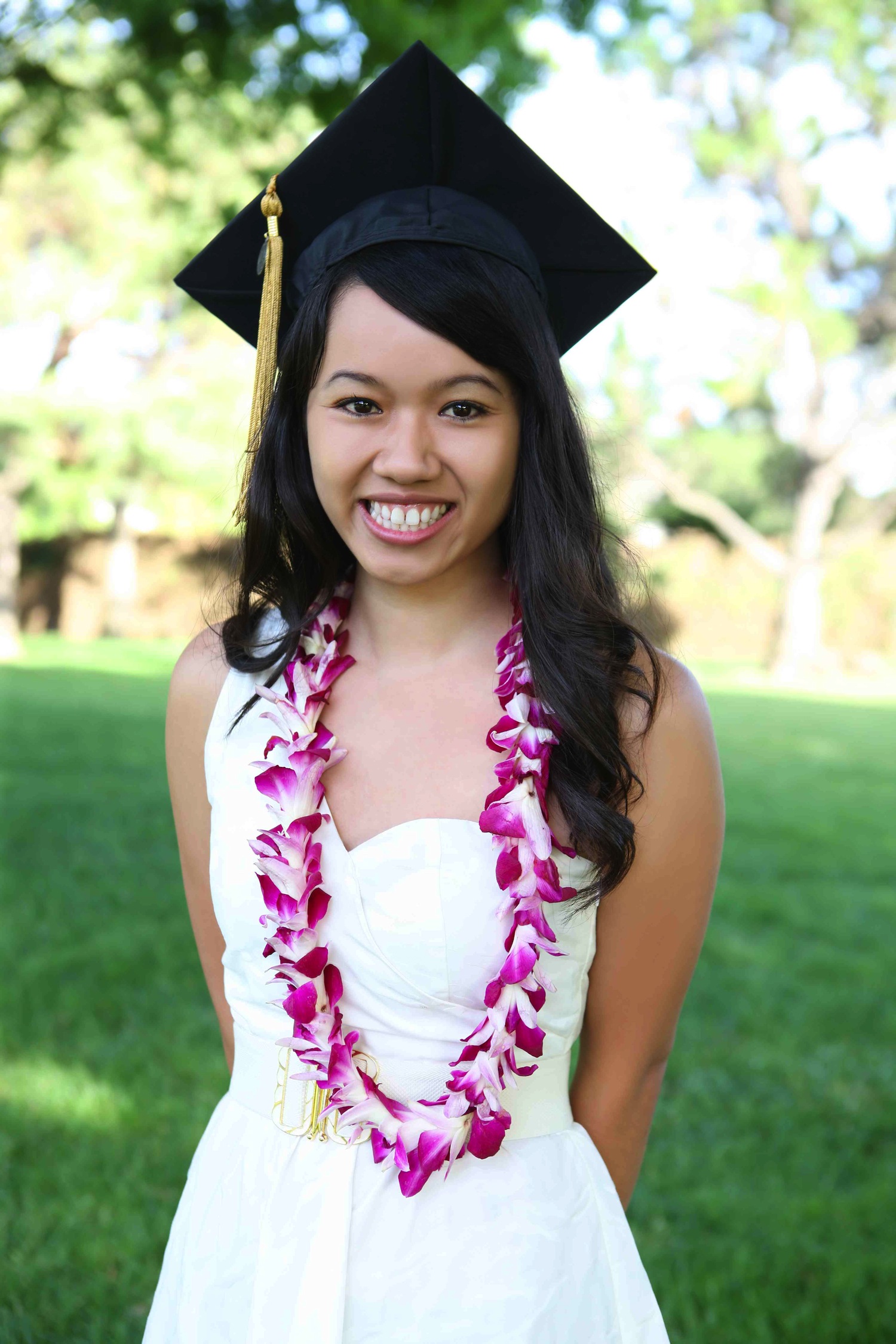 If you are graduating, you know someone who is, or you're just attending a ceremony natural flower graduation leis are the perfect gift. Hawaiian leis are also wonderful as a treasure for someone who you know has a love for Hawaii and Hawaiian culture. The lei will allow the graduate to feel connected to the islands and remind them of the time they spent there. Or, if they have never been it could act as a symbol of their dream to one day visit this incredible place. Leis for graduation are very popular. Local grads are often seen with a huge stack of leis around their necks. These gifts come from many friend and family members.
Presenting The Lei
When giving a graduate a lei, it is traditional for them to bow their head. The graduate then has the lei placed around their neck, and the ceremonial custom can be concluded with a kiss on the cheek. In some cases, the lei may need to be presented after the graduation ceremony, depending on the rules of each college. When a lei is placed over the head of the graduate, it wishes them luck on their future goals and offers good fortune. It also looks elegant and attractive when worn with graduate robes.
You can also include another gift such as a Hawaiian gift basket, spa gift basket for women or loose orchids to decorate for the party afterwards.
At With Our Aloha, we are proud to offer the full range of leis for graduates as well as others in attendance. We also have a wide range of customers who buy leis for their children graduating to another part of school, weddings, birthdays, going into new jobs, and embracing retirement.
Choosing A Lei
If you are thinking about purchasing a lei for a graduation ceremony you need to think about which type you want. There are many different choices to choose from. Commonly, leis are made with some form of a natural flower. One of the most popular leis that we have available is a fresh orchid lei. This stunning design looks incredibly delicate and comes in a wide variety of colors. As well as the aesthetic, leis are popular because they last and stay fresh for a long time.
When buying a lei do think about whether it will be given to a male or a female. There might be a differentiation here as girls love leis that are more feminine and may have an attractive scent. This is true for the tuberose lei that we have on sale. The delightful creation smells wonderful, and the oils within the flower are often used for making perfumes. The flowers themselves are elegant and yet bold, making them the perfect gift for a lady who wants to stand out on her graduation day.
For male graduates, there are various classic options available such as leaf leis and cigar leis for men. Cigar leis are made up of hundreds of little tube flowers. They get their name due to the fact that the orange and yellow tubes look like lit cigars and they are incredibly popular with athletes as well as a gift for Father's Day. They can also be the perfect way to welcome your son or friend to the next part of their life at graduation.
Alternatively, leaf leis are one of the most popular leis in Hawaii. This masculine lei is often seen being worn by the groom at Hawaiian weddings and has become very popular with male graduates as well. The minimalistic design is stunning and will not attract too much attention. The lei does have a slight vanilla scent which many customers absolutely adore.
You can also get leis to match the colors of the university or college for the graduation that you will be attending. At With Our Aloha, we offer a wide range of different colored leis, so we are sure there is one that fits with the right college for you.
Different Types Of Graduation Leis
Our gorgeous, natural orchid leis are one of the most popular choices with graduates from the US mainland. Due to their popularity in Hawaii, they are often difficult to find during the months close to graduation. That's we recommend you order one early if you want it there in time. These beautiful leis come in a wide variety for different colors from cream to lavender, and all are freshly made. Each lei comes with a complete set of care instructions to ensure it is still fresh on the day of graduation.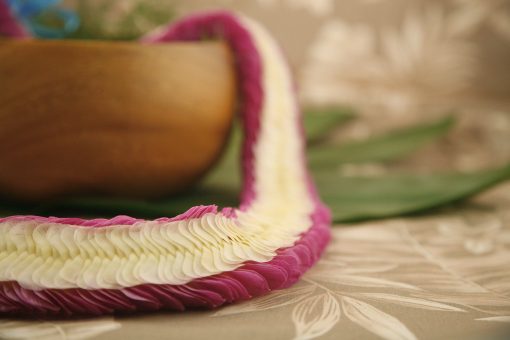 Woven Leis
Woven leis are intricately weaved and created for a unique and beautiful design. These leis are often chosen to ensure that the gift contains the classic school colors. An example of this type of lei would be the Alewa Lei. A captivating choice, this will certainly make your loved one stand out on graduation day. The unique blend of colors look picturesque, and they are particularly popular with ladies. You will often see these being worn at weddings in Hawaii by the bride or the bridesmaids.
Another choice you could consider would be the Angel Lei. Each flower in this design has its petals carefully folded to create a bold yet simple effect. The colors are expertly interwoven by our designers, spiraling together for a wonderful finish.
If you want to ensure that your lei matches the colors of a college or university we offer a range of color infused leis. These are specifically designed with unique colors that will look perfect, matching your graduation robes. An example of this type would be the Waipio Hawaiian lei. White dendrobium orchids are used to make this design. When they are still on the stem, they are infused with the blue and yellow colors. The way these flowers are sewn together and folded makes it look truly magnificent. The recipient of your gift will certainly stand out at your ceremony with this classic choice. The color infusion is generally fast but there can be some transfer with very hot weather or pressure on the flowers.
You can also select color leis in red or green to suit your graduation or wedding colors. Purple, white, orange and jade green leis are available in natural colors.
A wide variety of the leis we offer from With Our Aloha are fragrant. These leis have a wonderful array of different aromas. It's a way of adding a little more to your gift. When looking at each individual lei, you will be able to discover what type of scent they have and whether it would be something your loved one would enjoy. For instance, the tuberose lei has a gorgeous aroma that many people find smells like gardenia. Matched with the elegant white design, this is the perfect choice for a daughter on graduation day.
Graduation leis for men come in many forms. The classic lei for men is made from the maile vine. Maile leaf leis are also worn by the groom in a Hawaiian wedding. Maile is not always available for shipping to California. Why does maile not ship to California? This is due to the strict agriculture inspections of incoming plant material. We can usually clean maile to be acceptable if it is ordered in advance. A suitable substitute for maile leis at an affordable price is made from ti leaves. There are also braided ti leaf leis with or without orchids woven in.
Sports fans may have seen coaches wearing the bright cigar lei. This is made from an orange flower said to resemble a lit cigar. This is a masculine lei said to bring good fortune. It is also suitable for graduation. Men can also wear a single or deluxe orchid lei in a color that they like. There are also color infused orchids to match school colors.
Graduation Leis for Children
Children wear graduation leis, too. Whether it means moving on to a higher level school or just advancing to the next grade it is a time to celebrate and honor. For a long lasting lei kukui nut leis are available in smaller sizes for your kids. With advance notice we can make an orchid lei in a 20 to 24 inch size for children to wear.
Candy leis are often used in graduation ceremonies for young children. Your child, niece, nephew, grandson or granddaughter will love this gift as they graduate to the next part of school. With Our Aloha offers candy lei kits that you can create yourself. Each candy lei kit contains everything you need to make your own lei. You can then add your child's favorite wrapped candy from Hershey Kisses to Werther's Toffees. These unique leis are perfect for little ones, and you don't just have to add candy. You can use anything you like to decorate the lei including small gifts and toys.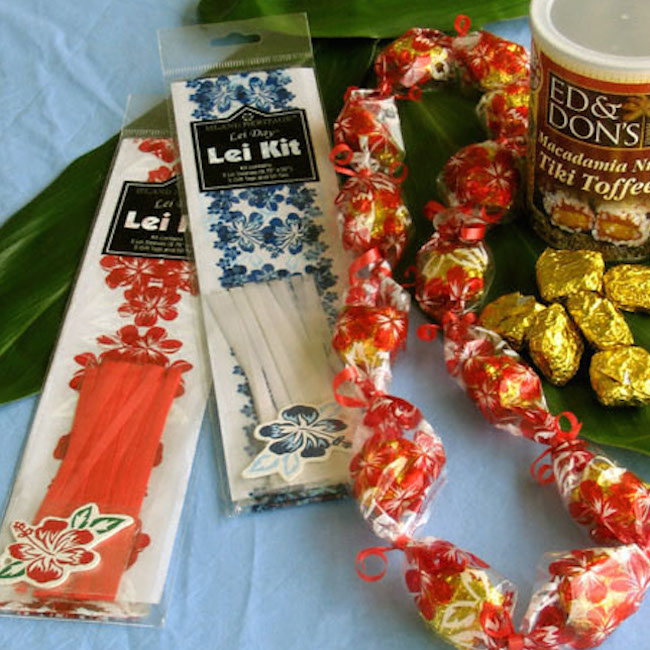 Selecting A Size
Some of our leis are available in different sizes. The size you choose really depends on how much you want the recipient to stand out on graduation day. Most of our leis are between thirty and forty inches long. But you can get a double orchid lei that contains between ninety and one hundred different orchid blossoms. This lei is almost twice the size of the the single orchid variation.
You can also look into purchasing a deluxe orchid lei. The incredible design is made of nearly two hundred different blossoms. These leis are very durable and will last for days before they are used on graduation day. If you want the graduate to stand out from the rest of the other students, this is the right choice.
Restrictions And Ordering Your Lei
The stunning leis that we hand create take a little time before they are ready to ship. This is why we recommend that you order your lei at least one week before your shipping date for some designs. Refrigerated, most natural leis will last several days before they start to change color or lose their scent. This will vary for each individual lei, so please check before you buy to make sure yours still looks stunning for graduation day.
Many of our graduation leis are incredibly popular, particularly in the months leading up to graduation from May onwards. For this reason, it is advisable to order further in advance. If the lei you desire is unavailable, we will strive to offer a beautiful alternative.
We ship leis all over America. However, there are a few restrictions. Unfortunately, we are unable to ship maile leis to California due to agricultural restrictions. We can, however, suggest variations that are similar such as a ti leaf lei instead of a maile vine lei.
Excluding the certain restrictions in California, our flower leis can be delivered to customers absolutely anywhere. Make sure you check delivery costs and shipping options before you commit to your purchase.
Fragrant leis are a wonderful choice as they add a lovely little extra to the graduation gift. However, we only offer fragrance leis with overnight shipping. This is to make sure that they still have their aromatic scent on the day of graduation. Most scents only last several days even when the lei is properly stored.
All our leis are natural, and we do not sell any artificial leis. We do this in the hope of keeping the wonderful tradition of the Hawaiian lei alive, bringing it to new locations.
Storing And Preserving Your Lei
Some leis available to purchase can last a lot longer than graduation day. Before graduation, you can refrigerate your lei to keep it fresh. Be aware, many leis are not suitable for freezing. If you want to preserve your lei after it is worn, you can hang some designs to dry and refrigerate others. We provide information on this for each of the leis that we offer. Each lei also comes with specific storage instructions. These will explain how to keep your lei fresh before the ceremony and, depending on the type of lei, how to preserve it after use.
Missing The Graduation?
If you are missing the graduation, there's no reason not to still pick a lovely lei and send it to your loved one for their graduation day. This shows that you care and you wish you could have been there. It also allows them to feel your affection even if you're going to miss the actual ceremony. You just have to make sure you send the lei at the right time, so it's still fresh for the big day.
Alternatively, here at With Our Aloha, we also offer a wide range of Hawaiian flowers that can be sent as gifts too. A beautiful, colorful bouquet can show you're thinking of them, no matter where you are. Have a look at the flowers that we sell for the full list of options here. We're sure they will be greatly appreciated by a new graduate.
Other Ceremonies
Graduation leis aren't just for graduation. They can be purchased for a wide range of different ceremonies including weddings, parties and even celebrating a new career. Leis are also wonderful as gifts for special occasions like Father's Day, Valentine's Day, Mother's Day and anniversaries. Anytime you want to show your love and affection for another, a lei is a brilliant, beautiful option. Particularly, if they are passing onto a new stage in their lives.