When most people hear the words "Destination Wedding in Hawaii," the natural reaction is excitement. Who doesn't want to go to Hawaii? For the couple getting married, stress follows excitement when they realize how much they need to accomplish from a distance.
Luckily, Hawaii hosts a lot of destination weddings, which means there are resources available to manage everything you need from wherever you call home. Many companies will plan and do everything for you, for the right price. While that may sound tempting and perhaps even ideal, remember that such a plan means that someone else is making a lot of the decisions about your wedding. While they may allow you to choose from various options, keep in mind that they have chosen the options from which you get to choose.
There are also companies that will provide just the level of support you desire. This type of company allows you to retain control over those elements that are most important to you, while allowing them to take care of things such as your Right-of-Entry Permit that will make it legal for you to get married on a beach. While each person will have different things that matter most to them, most people tend to care about location, their flowers, and the gifts they provide to members of the wedding and their guests. When it comes to those items, most people want more than a couple of choices. They also want everything to feel distinctly Hawaiian.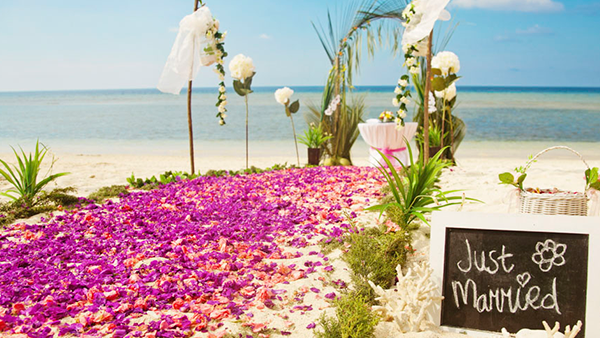 That's where we come in. When you're ready to choose your beautiful and distinctive leis and corsages, our selection will allow you to express yourself in the most Hawaiian of ways. What's more, you can continue to express yourself, and provide a lasting memory, by selecting gifts for your wedding party that will remind them of your wedding in paradise for years to come.
If you're ready to add the right touches to your Hawaiian wedding, contact us.
Hawaiian Weddings
Hawaiian Flower Leis
Fresh Flower Leis
Orchid Corsages & Boutonnieres
Hawaiian Wedding Favors
Join us on our Facebook page!