10 Hawaiian Flowers to Gift Someone During The Shutdown
There are currently almost 400,000 different types of flowers grown across the globe. Many of these flowers can be found growing in the lush, tropical climate of Hawaii. Many Hawaiian flowers boast beautiful colors and strong scents, making them the perfect gift to send to a loved one!
During the uncertain and often trying times of the shutdown, a small gesture can go a long way. If you're looking for a way to brighten someone's day, sending them a bouquet of Hawaiian flowers is sure to make them smile!
Check out the top ten Hawaiian flowers to gift to someone while so much is shut down.
Top Ten Hawaiian Flowers
If you're in the market for the perfect gift for someone during the shutdown look no further than the perfect Hawaiian flower! Check out the top ten Hawaiian flowers to gift to someone during this shutdown.
1. Orchids
Arguably one of the most iconic flowers across the globe, Hawaii is known for its vast range of orchids. Orchids can be grown naturally or through a hybrid man-made process. Either way, the flowers are often beautiful and fragrant!
2. Pikake
A famed flower in its own right, the Pikake flower was the favorite flower of Hawaiian Crown Princess Ka'iulani. The flower produces such a wonderful perfume that it is earned a name as one of the most fragrant flowers of the islands.
3. Hibiscus
The Hibiscus plant offers a variety of bright colors to add to any beautiful Hawaiian flower bouquet. As the Hawaiian state flower, the Yellow Hibiscus offers a nostalgic and beautiful addition to any bouquet! The wide range of colors offered is sure to brighten up anyone's day!
4. Heliconia
Known for its unique cone shape and wide range of bright colors, Heliconia plants are widely used throughout Hawaiian flower arrangements. These interesting flowers are also very low maintenance, making them a great gift during Covid-19!
5. Plumeria
The Plumeria flower is an icon flower to Hawaiian culture and its bloom is commonly worn behind a woman's ear. This flower is also commonly used in Hawaiian leis. Plumeria is also commonly used to decorate resorts and beaches!
6. Bird of Paradise
Arguably one of the most uniquely shaped flowers of the islands, the Bird of Paradise is sure to bring joy to whoever receives it. Due to their uniqueness, the flowers are a staple of any true Hawaiian bouquet.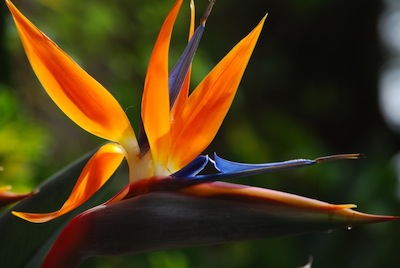 7. Lokelani
As the official flower of the island of Maui, the Lokelani is a staple of Hawaiian history and culture. The flower is prized by gardeners and florists for its beauty and fragrance.
8. Ginger
While you may be familiar with the spice, Ginger plants are not fragrant until they're crushed or squeezed. The plant itself boasts a vibrantly colored and geometric masterpiece.
9. Anthurium
Offering a sleek and bright blossom, Anthurium plants are usually shaded in pinks and reds and often grow shaped like a heart. The flowers are often a staple of Hawaiian gift baskets and bouquets.
10. Naupaka
Known as the famous "half flower" of the islands, this flower is grown to give the impression that half of the flower is missing. The flower is accompanied by rich green leaves and is known to flourish on both the beaches and mountains of Hawaii.
The Gift of Hawaiian Flowers
It's a complete understatement to say that we're living in some difficult times. With the worry of the shutdown running rampant, many people are often forgetting about the simple pleasures in life, such as the beauty of flowers.
These are just ten of the numerous Hawaiian flowers that would be sure to surprise and delight someone during the shutdown. If you're looking to brighten someone's day and remind them how much you care about them, a beautiful Hawaiian bouquet is a great gift!