When you think of Hawaii, what comes to mind? Pristine aquamarine water and white sand beaches, or slack key guitar and warm sunsets? Or is it more than the visible beauty that makes this place so memorable? The taste of our unique cuisine popping on your tongue, or breathing in the sweet aroma of tropical flowers? We hope this Hawaiian gift giving guide will help.
Hawaii is a truly unique place on earth, and here on the Islands we do things differently. For anyone who has visited or lives here, we all know what it means to live Aloha. We take our shoes off before we enter a house; we let people merge during the commute (and send a thanks with a shaka); we hold the door open for aunty at the bank; we always bring pupus to a gathering, potluck is implied; and we always greet with a hug and kiss on the cheek.
The holidays are event a little different in Hawaii: we adorn palm trees with Christmas lights; Santa Claus is often seen surfing; the start of the holidays are marked with Honolulu City Lights Parade where Shaka Santa and Tutu are proudly unveiled each year at Honolulu Hale.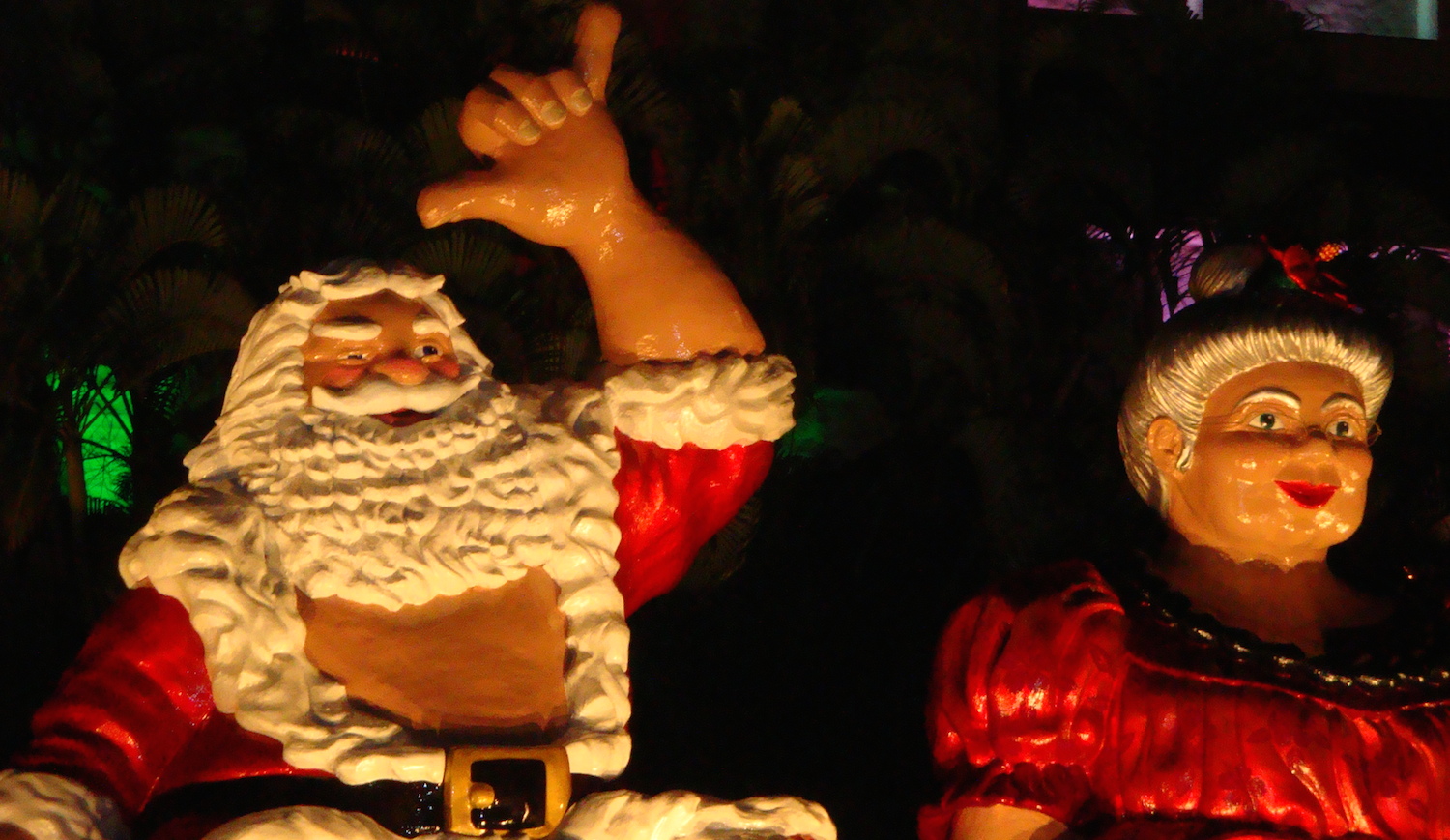 In Hawaii, living Aloha is intrinsic, second nature and for many is the first thing that comes to mind when we think of Hawaii. During the holidays we can all take notes from the special way of life on the Islands, and give with Aloha.
When it comes to gift giving we all want to put a smile on the receiver's face and leave a lasting impression. If you're struggling with how to make that impression, keep Aloha in mind.
Make it personal
What about this person would show you care and really know them? Do they have a favorite sports team? A favorite color? Do they collect something? Do they work in a unique industry? A peacock shaped stocking to someone who loves peacocks; fancy note pads and gel pens for someone in the design industry; a candy lei filled with their favorite treats; make a meme dedicated to your friend and share it with them on social media; or a mug from their favorite football team would be thoughtful gifts.
Bring back memories
Despite the cheesiness, people love personalized photo gifts—a calendar or digital photo frame with photos from that road trip you took together; a photo book of all the Facebook posts you tagged each other in. Bringing back memories doesn't always have to come in photo form. Make an ornament with shells from that beach you used to go to as kids; take apart that Halloween costume you two wore 10 years ago and make a scarf out of it; upload 25 days of your favorite memories with your pal for a cool Instagram advent calendar; make a Spotify playlist with songs that mean something to you and the recipient; or tie a quilt together using strips of cloth from old dresses and aloha shirts.
Something you could do together
Maybe there's something you've been telling this person you should do together but haven't yet—two tickets to the back alley play; a one month subscription to Areal Yoga; paddleboard rentals on North Shore; a camping permit for next summer on the Na Pali coast. Just remember that you have to do this gift with the person so don't pick anything you won't enjoy as well. And there's always the guaranteed hit, a movie marathon, where you bring the awesome snacks.
Make it funny
Gag gifts can often be distasteful, and are only really appropriate for people with a certain sense of humor. But you can still make someone laugh without being crude. Maybe it's a framed picture of their first Tweet, after you've been begging them to get on Twitter for years and they swore they would never tweet, ever; a guitar pick punch mold because they can never seem to find one when they want to play; or an oversized wine glass for a wine lover.
Regional
What makes where you live unique? Turning to your nearest local small business is often the best solution to finding a regional local gift. Find a local potter with up a pair of mugs; a local photographer with a framed photo of your region; a local author personalizing her latest release; or a farmer's market vendor with their latest jam or jelly.
•  •  •  •  •  •  •  •  •  •  •  •  •  •  •  •  •  •  •  •  •  •  •  •  •  •  •  •  •  •  •  •  •  •  •  •  •  •  •  •  •  •
Whatever you give this season, the best advice for holiday giving is keep Aloha in mind. A gift from the Islands is a special way to remind your loved ones of where you live, where they used to live, remind them of their favorite vacation spot, or celebrate their enthusiasm about their upcoming vacation to Hawaii. If you are looking for a unique local gift grown in Hawaii and made in Hawaii we have a few suggestions below.
Remember you don't have to wait to place your order! Fresh flowers ordered now will not be cut or prepared until a day before shipping. Pre-ordering now ensures your gift will arrive fresh, before Christmas, and prevent stress from last minute shopping.
For the lucky people who scrolled down this far, congratulations! 
Use promo code ALOHA to save 10% on your purchase starting on Small Business Saturday (11/28/15) through Monday (12/14/15).