8 Tips for Throwing the Perfect Luxury Hawaiian Wedding
8 Tips for Throwing the Perfect Luxury Hawaiian Wedding
Hawaii is the perfect location for a luxury destination wedding. These 8 tips will help you plan the perfect Hawaiian wedding.
Have you always dreamed of getting married on the beaches of Hawaii?
If so, and you've recently become engaged, now is the time to start planning your Hawaiian wedding!
Because not only does a destination wedding cost around $28,000 on average, many couples also flock to Hawaii every year to get married. This makes reserving your dream venue a bit more competitive.
Then, throw in all the planning of a regular wedding into the mix, and you'll likely find your head spinning.
But never fear. In this article, we're bringing you 8 tips to help you plan the Hawaiian wedding of your dreams!
1. Know Hawaii's Climate
If you've recently become engaged, congratulations! Getting married in Hawaii is a unique experience that few couples around the world get to experience.
You may have already decided on a Hawaiian wedding, or you may still be considering it. Either way, it's important to familiarize yourself with Hawaii's climate.
It's no secret that Hawaii has gorgeous weather year-round. All year, the water and air temperatures stay above 70?F – on average.
The summers are dry and sunny while the winters have significantly more rainfall. There are really no other seasons besides summer and winter.
With that said, more couples look to get married in the summer. There's less risk of bad weather, but couples will likely pay more than those who book in the winter.
2. Have a Vision
Before you book a venue and your airplane tickets, decide on the season that's ideal for you and your partner.
A few factors may influence your decision, the first being your budget. How much you're willing to spend on your wedding will determine whether you get married in the summer or winter.
But your budget is not the only thing that matters. The type of ceremony and reception matters, as well.
First, decide if you want an indoor or outdoor ceremony. You could have a ceremony on the beach, up in the grassy hills, on a boat, or even in the gardens of a hotel.
Then, decide if you want an indoor or outdoor reception venue. We'll explore how to choose the perfect venue in our next tip.
3. Book the Venue A.S.A.P
While Hawaii is one of the most beautiful places on earth, it's also one of the smallest. With all the islands put together, the state is only 10,931 square miles big.
In a single year, about 20,000 couples travel to these small islands to get married. This doesn't include the number of natives who get married in Hawaii, either!
It's a no-brainer to book your venue or vendor as soon as possible. There are only so many days in a season. And there are many other couples who will be looking to get married where you want to.
So, how do you choose the perfect wedding venue or vendor?
Browse around and explore your options. Do thorough research and don't hesitate to take reviews into account.
Here are some things to consider when researching venues and vendors:
What does their availability look like?
Do they provide catering?
Do they provide outdoor tents and seating?
What other amenities do they offer?
Once you find a venue that has availability within your desired time frame, book it.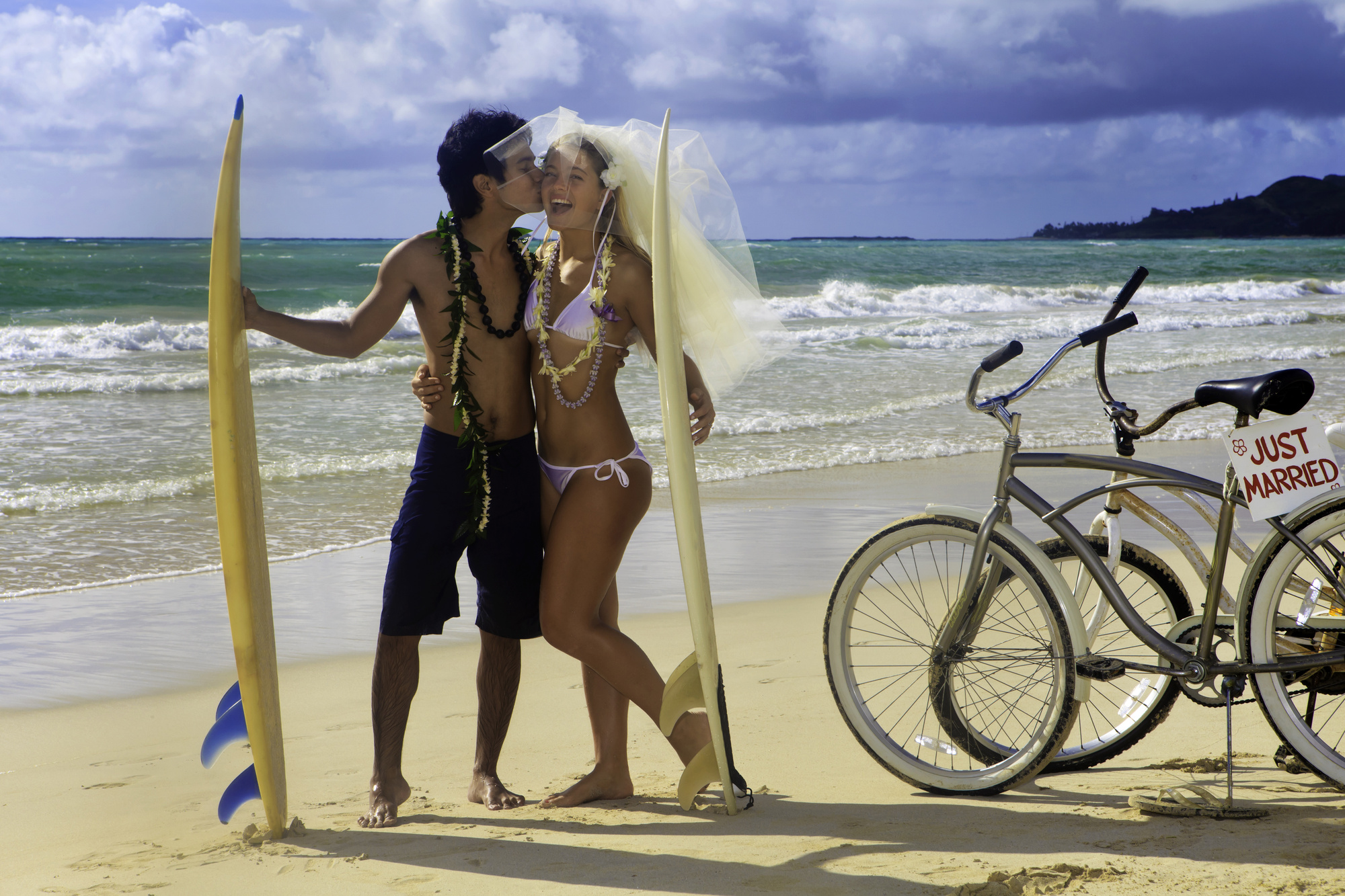 4. Make a Trip Before the Wedding
It's harder to be physically involved in the planning for a destination wedding.
Consider making a trip where you meet with potential vendors before booking. It's good to research beforehand to vet out your options.
But if your heart is set on a vendor or venue, you might as well book it. Still, you should at least book a trip to see it in person. That way, you can also plan out your decor, catering, entertainment, and flowers.
5. Notify Your Wedding Party
As soon as you get engaged, it's important that you start to think about your Hawaiian wedding party.
Your wedding party needs the most notice of all. They're not only going to have to pay for their airfare and lodging. They'll also have to take other costs into account, such as:
Bridesmaids dresses/groomsmen suits
Hair/makeup/shoes
Bachelorette/bachelor party
Wedding shower costs & wedding gifts
Choose your wedding party and notify them as soon as possible so they can start planning and saving.
6. Give Your Guests Plenty of Notice
Once you have the venue booked, it's time to make your "Save the Dates!"
However, compiling a guest list is a bit more complicated with destination weddings. First off, guest lists for destination weddings are usually smaller.
Rarely do couples invite more than 30 guests to attend their destination wedding. In fact, many couples only invite immediate family.
Think long and hard about who you want to invite to your Hawaiian wedding. Once you have a guest list, give them – at least – 6 months notice. The more notice, the better.
7. Dress for the Climate
Unless you're having the reception in an air-conditioned hotel, it's unlikely that you'll be wearing a traditional gown or tuxedo.
The same goes for your wedding party. With a Hawaiian wedding, think light colors and short-sleeves.
But your attire isn't the only thing to take into consideration. If you're getting married in the summer, you may want to consider pulling your hair up or wearing sandals.
8. Focus on Flora
In Hawaii, you want to embrace the natural beauty of the land. The best way to do that is to focus on your flower scheme.
First, think long and hard about the venue's setting. What colors are present, and how can you bring those colors out? What types of flowers and trees will surround you during the ceremony and reception?
Next, think about your wedding theme or color scheme (if you have one). Flowers may seem like a small detail, but they're much more significant than you'd think. Think of flowers as the final touch to your destination wedding.
And since you're having a Hawaiian wedding, you'll definitely need leis for all your guests!
Throw the Hawaiian Wedding of Your Dreams
What should be a happy and exciting time can easily turn the sweetest of brides into Bridezillas. Planning any wedding is stressful. But planning a destination wedding is all the more difficult.
But it doesn't have to be! By staying on top of these 8 tips, you can enjoy planning your wedding in Hawaii.
Make your Hawaiian wedding all the more beautiful with fresh flowers that are native to the land. With Our Aloha has everything from orchids to tropical foliage and leis, in all colors and sizes.
We're here to help make your destination wedding in Hawaii a unique and special event. Contact us today!