Corporate Gifts Can be Amazing!
Your average corporate gift looks like it came out of a catalog titled Forgettable Objects, or maybe one titled Last Year's Clearance. It is the thought the counts, and most corporate gifts feel as though they required very little thought. Wouldn't it be something if the thought that went behind your next corporate gift included the words "personalized," and "Hawaiian?" We think so, and we're ready to help you craft that very thought.
Imagine the impression you'll make when your recipient receives, not just flowers, but Hawaiian flowers. They'll wonder how you managed it, and they'll immediately realize that you are not a typical corporate drone. It will make them wonder what else is special about you and your organization.
If flowers aren't quite the message you want to send, imagine a corporate gift basket with the world's best Kona coffee, or assorted Hawaiian candies or macadamia nuts. Your recipient will immediately think "different," "thoughtful," and even, "imaginative." Compare that to the drawer full of forgettable corporate gift they likely have at home. Who will they remember?
Companies seek creative ways to stand out when thanking employees, customers or other stakeholders. Choose one of our Hawaiian gift baskets or we'll help you create one with the perfect items to meet your budget. We can send them to your office for you to hand out. Or we'll ship each one directly so it arrives on time and with your personal or company branded gift note.
Because we ship to most US points within two days, imagine the possibilities that open up for where to have a Hawaiian treasure shipped.
How impressed will your recipient be when they check into a hotel only to find a tasty batch of macadamia brittle waiting for them? Imagine if you could brighten up their drab hotel room with an arrangement of protea, bird of paradise and heliconia stems. Every time they move in their room, there is your thoughtful gift, reminding them of the unconventional thinker who sent it. And if they are lucky enough to be in a hotel in Waikiki we'll deliver at no extra charge.
When you're ready to make the right impression with your upcoming corporate gifts, contact us.
Please follow and like us:
Everybody loves giving and receiving a well-thought-out gift basket. Although any occasion is the right time to give a beautiful Hawaiian gift basket from With Our Aloha, if you need inspiration as to when to give a gift basket, here are a few ideas:
New Job
Why not present the friend or family member celebrating a new job, or job promotion with our 100% Kona Coffee Lover's Hawaiian Gift Bag? They'll start their new job off right with ground Kona coffee, macadamia nut biscotti, handmade Kona coffee cookies, and a beautiful Hawaiian print coffee mug to hold their coffee while they learn their way around that new job.
Baby Shower
Help the mom-to-be get a jump-start on managing the stress that comes with adjusting to becoming a new mom with our Stress Release Formula Hawaiian Gift Basket. The soon-to-be new mom will love the feeling of being pampered while she soaks in scented bath water, smooths on deep moisturizing lotion, and enjoys the stress relieving fragrance or our aromatherapy soaps. We use wild flower essences of lehua, yellow ginger and kinehe to soothe the nerves and relax the body.
Anniversary
Nothing says "I love you" like surrounding your lady with beautiful and relaxing scents to refill her soul. Our basket, Soul of a Woman does just that. Bath crystals, lotions, body mist and soaps are scented with mango, white ginger, banana and lehua harvested right here in Hawaii to soothe and rejuvenate the soul.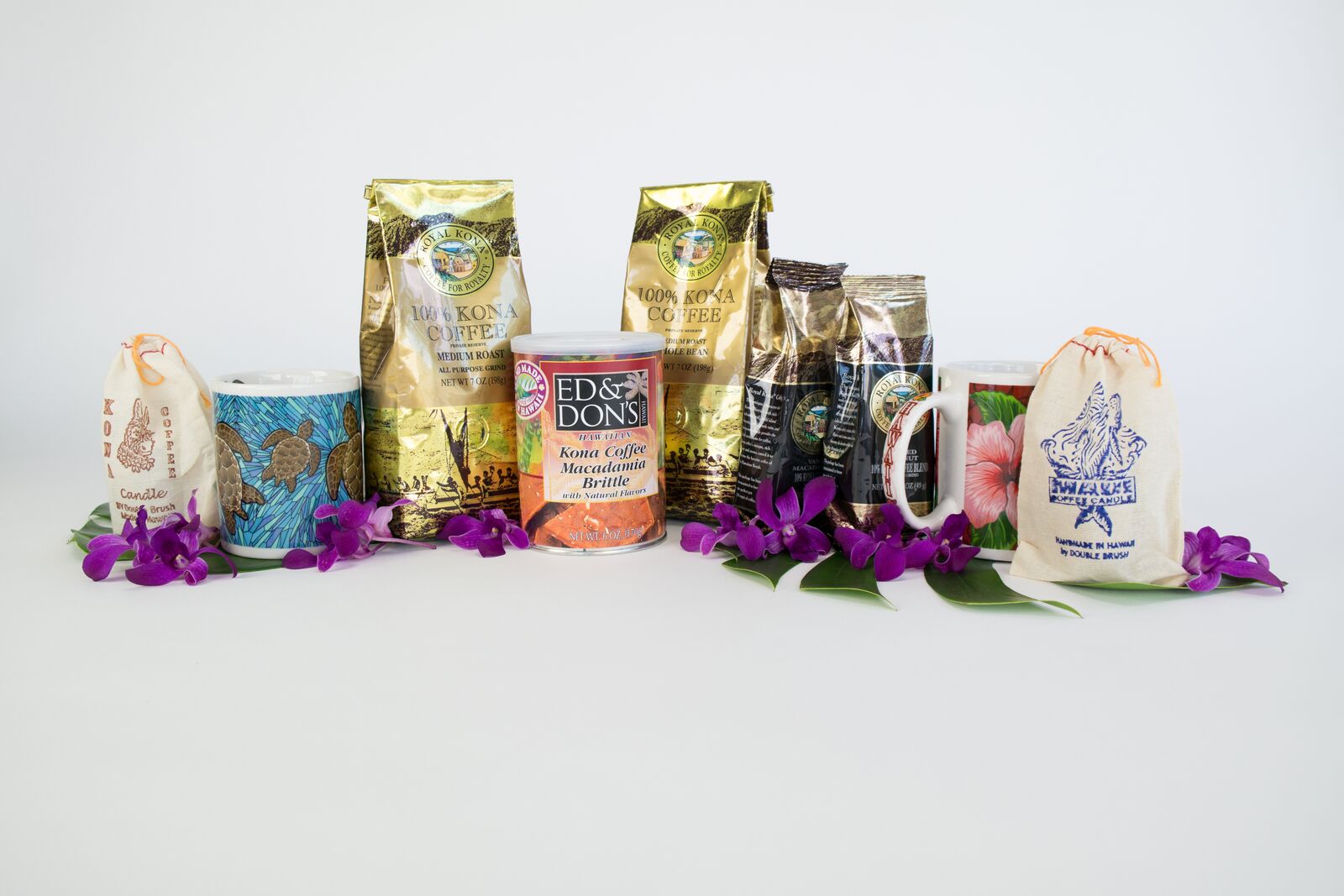 Just Because
Everybody loves chocolate, and our Chocolate Lovers Hawaiian Gift Bag is heaven in a bag. You'll find chocolate covered macadamia nuts, chocolate chip cookies, chocolate covered Tiki Toffee, and more to pamper your favorite chocolate lover.
Corporate Giving
In a professional setting a simple gift can go a long way in strengthening business relationships. Saying 'Thank You' to an important client, employee or mentor makes a big impression.
If you are in charge of finding a large number of gifts for a company event, sales rewards or customer gathering consider a Hawaiian theme. We will help you design a gift bag or basket to meet your budget.
Contact us to learn about our other gift basket options.
Gift Baskets
Hawaiian Gift Baskets
Kona Coffee Gifts
Hawaiian Spa and Bath Gifts
Custom Gift Baskets
Join us on our Facebook page!
Please follow and like us: