Blooming Hawaiian Orchids of the Month
Our Hawaiian Orchid Plant of the Month Club will feature a large variety of single, or, when available double-spiked blooming Hawaiian orchids. Fresh orchids with free shipping every month! We introduced this club after the success of our tropical flowers of the month clubs. That club offers fresh cut flowers each month. Our Orchids of the Month Club sends plants with long lasting flowers. They will bloom again and again. Our grower is located in the Puna area of the Big Island where dendrobium orchids thrive in the warm weather and ocean breeze. These are not the factory farm orchids that you will find in mainland groceries.
Not available for shipping to Alaska due to shipping charges. Contact us for pricing.
When you send a Hawaiian Orchids of the Month Club membership as a gift, we will send your personalized gift note. We will also include a letter welcoming your friend or loved one to the club. We'll include easy to follow instructions for the care of the new blooming orchid plants. This is a lovely gift for anyone's home or office. Orchids of the Month are quite popular with loved one's in assisted living.
ORCHIDS SHIP ON MONDAYS ONLY
We will ship varieties of blooming dendrobium or exotic orchid plants around the same time each month. We keep track of what was sent for the duration of your membership. For the two pack each month one will be a dendrobium and one will be exotic. Both are easy to care for.
Your Hawaiian orchid plants are packed carefully and securely for their quick trip to you or your recipient. And we ship by FedEx Priority which is usually morning delivery. California as well as many west coast cities receive overnight delivery.
Dendrobium orchid plants are among the simplest orchids to grow. They are perfect for beginners. We ship as they first come into bloom. They will typically stay in bloom for about 4-6 weeks at a time. They require very little care, and will thrive under normal household conditions. Just don't over water! Your orchid plant, if cared for, will live for many years and bloom again and again.
New selections of blooming Hawaiian orchid plants will be shipped around the same time each month for the duration of the membership.  Call or email to schedule around vacations, etc.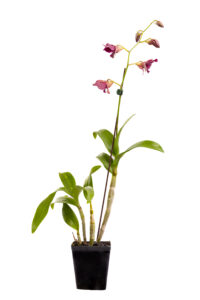 Learn more on orchid care when you visit the American Orchid Society web site.
Orders sent with no signature are not insured.
FAQ Blooming Orchid Care
How to water blooming orchids?
Overwatering is often a problem for blooming orchids. Too much water can cause the roots to rot. For Hawaiian dendrobium orchids once or twice a week should be fine. Let the potting material dry between waterings.
How do I fertilize my blooming orchids?
A balanced fertilizer is best such as 8-8-8 or 10-10-10. Use about half the recommended strength when you water. Stop fertilizing when the orchids are in bloom.