When most people hear the words "Destination Wedding in Hawaii," the natural reaction is excitement. Who doesn't want to go to Hawaii? For the couple getting married, stress follows excitement when they realize how much they need to accomplish from a distance.
Luckily, Hawaii hosts a lot of destination weddings, which means there are resources available to manage everything you need from wherever you call home. Many companies will plan and do everything for you, for the right price. While that may sound tempting and perhaps even ideal, remember that such a plan means that someone else is making a lot of the decisions about your wedding. While they may allow you to choose from various options, keep in mind that they have chosen the options from which you get to choose.
There are also companies that will provide just the level of support you desire. This type of company allows you to retain control over those elements that are most important to you, while allowing them to take care of things such as your Right-of-Entry Permit that will make it legal for you to get married on a beach. While each person will have different things that matter most to them, most people tend to care about location, their flowers, and the gifts they provide to members of the wedding and their guests. When it comes to those items, most people want more than a couple of choices. They also want everything to feel distinctly Hawaiian.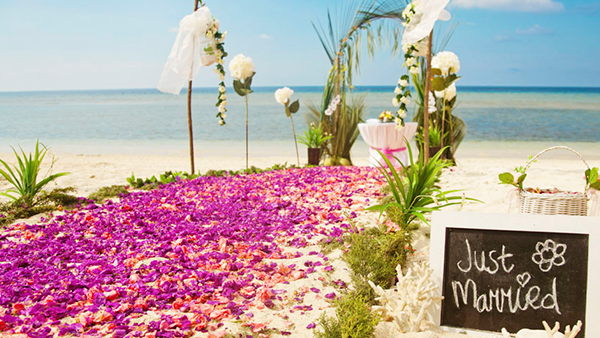 That's where we come in. When you're ready to choose your beautiful and distinctive leis and corsages, our selection will allow you to express yourself in the most Hawaiian of ways. What's more, you can continue to express yourself, and provide a lasting memory, by selecting gifts for your wedding party that will remind them of your wedding in paradise for years to come.
If you're ready to add the right touches to your Hawaiian wedding, contact us.
Weddings
Hawaiian Weddings
Hawaiian Flower Leis
Fresh Flower Leis
Orchid Corsages & Boutonnieres
Hawaiian Wedding Favors
Join us on our Facebook page!
Please follow and like us:
The orchid is traditionally a symbol of beauty and love, strength, luxury, fertility, and power. And it is no wonder, with its long stem and exotic brightly colored bloom. The orchid is easily distinguishable and indefinitely elegant—always a well-received gift.
The orchid was not always simply a gift to be given or even purely decorative though. In fact, it has had many uses beyond the ornamental throughout history. In China, the orchid has been used medicinally for centuries, specifically to treat lung and stomach cancers. In ancient Greece and Aztec cultures, the orchid was considered to give strength and the vanilla flavor would be extracted and then ingested in order to gain strength. Yet, in American society, the flower is generally a gift of thought whether for thankfulness, sympathy, or congratulations.
Hawaiian orchids are especially bright and cheerful while still portraying the same elegance and luxury as any other orchid. As with many other flowers, the varying colors of the orchid each hold a specific underlying meaning. Color should be considered before giving an orchid.
Red is a passionate color, usually reserved for romantic love. Pink is also a romantic color, or a color of friendship. Dark red is a color of leadership and courage. Orange generates enthusiasm, creativity, and success. Yellow is a color of joy and energy. Green radiates growth, stability, and healing. Blue is for loyalty, wisdom, and tranquility. Purple is a color used for wisdom, dignity, and mystery. White is a color of purity, and brown is a color of stability and clear thinking.
Contact us for information on the types of Hawaiian orchids that we provide and let us help you decide what would be best for you.
Orchids
Blooming Orchids
Orchids of the Month
Hawaiian Weddings
Hawaiian Flower Leis
Orchid Corsages & Boutonnieres
Join us on our Facebook page!
Please follow and like us:
Candy Lei Kits
Hawaiian flower leis are lovely but for keiki (kids) it is more about FUN!  As the school year ends many celebrate children moving to the next grade with a 'graduation' of their own.
For a fun, safe and easy party our candy lei kits bring a Hawaiian touch to your event.  Kits come in an assortment of designs and colors. Each kit makes 5 leis. Just use your favorite wrapped candy. Use 20 pieces of candy for each lei.
The kits are made from a printed, strong cello tube. Color ties are included so all your little students have to do is slide the candy inside and tie between each piece. The lei is then tied to close. Simple and fun.
Candy lei kits also make a great birthday party theme.
We have some new designs this year (shown below) and have added them to our web site. In addition to our traditional hibiscus color themes we now have a maile design that resembles the Hawaiian vine worn in graduation ceremonies.
The second new design is the 'kapa' or 'tapa' design, derived from traditional Hawaiian printing and paper making. And of course we've added pineapple, a Hawaiian favorite and favorite of kids as well.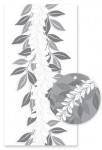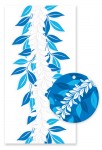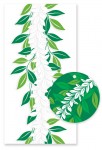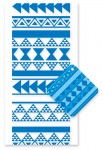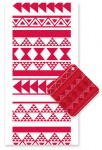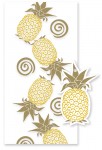 Please follow and like us: